Last Update - 14 Jul 2020
Suit dwaade lyrics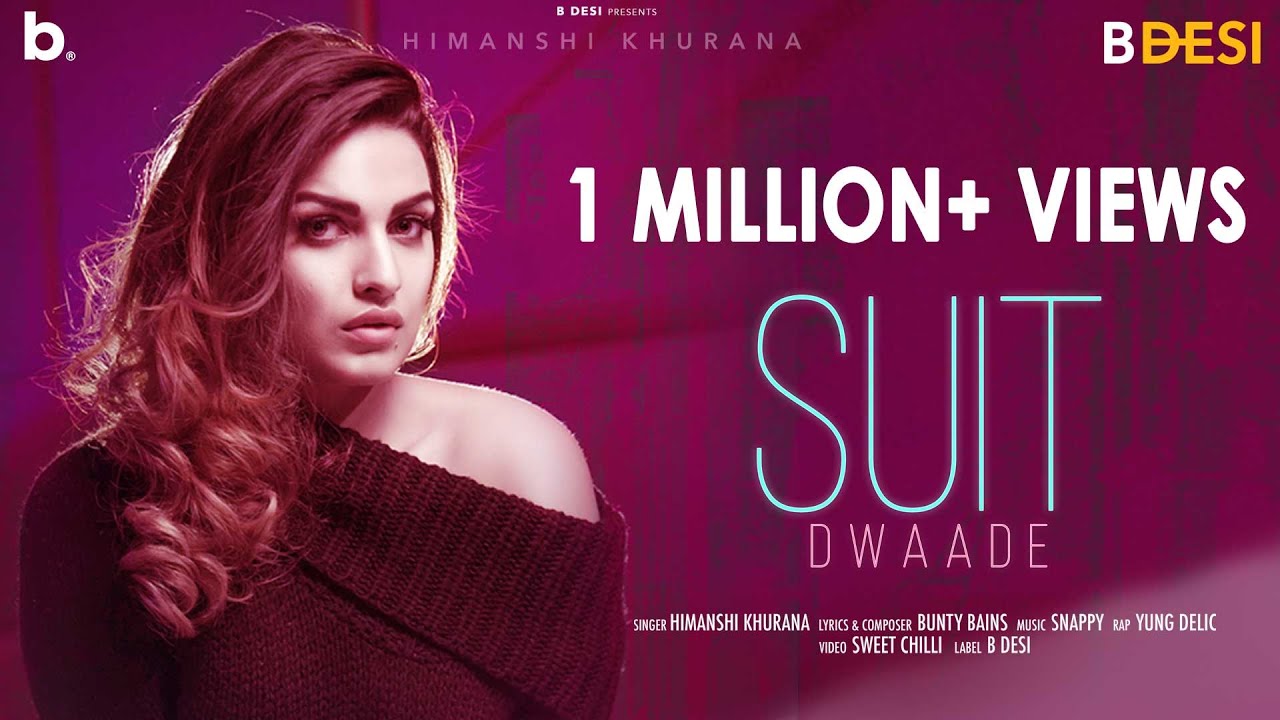 Suit Dwaade Lyrics: The Punjabi song is sung by Himanshi Khurana and Yung Delic, and has music by Snappy while Bunty Bains has written the Suit Dwaade Lyrics. The music video of the Suit Dwaade song is directed by Sweet Chilli.
"Suit dwaade lyrics" Song Info
Detailed information regarind song Suit dwaade lyrics.
Song Lyrics
Snappy!
Turdi di jhanjar chhanke ve
Main rahaan morni banke ve
Tu aaja mera banke ve
Main paake aawan lehange
Mainu suit dwaade ve
Dwaade sab kudiyan ton mehnge
Mainu suit dwaade ve
Dwaade sab kudiyan ton mehnge
Mainu suit dwaade ve
Dwaade sab kudiyan ton mehnge
Ik bangla hove sea facing
Two seater hove car channa
Teeji hor kudi koyi aawe na
Sadde dowaan de vichkaar channa
Ik bangla hove sea facing
Two seater hove car channa
Teeji hor kudi koyi aawe na
Sadde dowaan de vichkaar channa
Par sab ton urgent pyaar channa
Jihde bina assi na rehnde
Mainu suit dwaade ve
Dwaade sab kudiyan ton mehnge
Mainu suit dwaade ve
Dwaade sab kudiyan ton mehnge
Mainu suit dwaade ve
Dwaade sab kudiyan ton mehnge
Kudi main kuwaari
Niri fashion'an di maari
Munde mere pichhe phirde kuwaare
Shudayi keete saare
Tu gabru jawaan
Meri tere vich jaan
Aiwein jhoothiyan na gallan kudi maare
Na laawin mainu laare
Mainu kehnde queen channa
Tainu bains bains ne kehnde
Mainu suit dwaade ve
Mainu suit dwaade ve
Mainu suit dwaade ve
Dwaade sab kudiyan ton mehnge
Mainu suit dwaade ve
Dwaade sab kudiyan ton mehnge
Song Video
Song : Suit Dwaade Artist : Himanshi Khurana , Bunty Bains Singer : Himanshi Khurana Lyrics : Bunty Bains Music : Snappy Rap : Yung Delic Video : Sweet Chilli